Click IT is a Computer Repair Franchise and Computer services franchise. Our unique market position and local-store brand sets us apart from any other computer repair franchise, enabling our franchise owners to increase earnings with walk-in business and best-in-class computer services and systems. we are your local IT department. Simply fill out and submit our Let's Get Acquainted form to learn how to become a part of our growing network of nationwide stores, or click below to get started.
Why a Click IT Franchise?
Three Ways to Get Started
Begin Your Business Ownership Journey Today!
"I would go back to them in an instant." - Ann A.
Computer Repair Franchise | Two Markets | Less Competition | Digital Marketing | Highest Margins | More to Sell | Lots of Guidance
Let's Us Show You Why Click IT is the Best Computer Repair Franchise of Any of the Computer Business Opportunities Available Today
Computer Repair Franchise with Unique Offerings
At Click IT, we are proud to offer a computer repair franchise with a difference. Our franchise combines both retail and managed service provider (MSP) offerings, allowing us to provide customers with a range of high-quality services and products that are usually only available to larger corporations.
Verticalized Solutions
Our computer repair franchise provides verticalized solutions that cut across industry distinctions, offering services and products to both individual customers and organizations.
Main Street Ethos
We pride ourselves on our Main Street Ethos, integrating our computer repair franchise storefronts within local communities and becoming part of the surrounding marketplace. Our concierge-style sales approach from brick-and-mortar main street locations has allowed us to address underserved markets of computer consumers, including residents and businesses.
"Your Local IT Department"
Since 2012, Click IT has developed systems and revenue models that are streamlined, integrated, and scalable. Our computer repair franchise has thrived, allowing us to offer our expertise and support to franchise owners across the country. With our know-how, intellectual property, and developmental guidance, Click IT franchise owners can enjoy the benefits of a nationally-branded computer repair and services franchise opportunity.
Why Choose Click IT?
Two Markets: Retail and Managed Service Provider (MSP)
Less Competition: We offer unique, verticalized solutions
Digital Marketing: Our marketing tools and support are second-to-none
Highest Margins: Our franchise owners enjoy some of the highest margins in the industry
More to Sell: We offer a wide range of products and services to meet all customer needs
Lots of Guidance: Our franchise owners receive extensive training and ongoing support to help them succeed
Get in Touch with Click IT
If you are interested in becoming a Click IT franchise owner, please fill out our Let's Get Acquainted Form to learn more about our computer repair franchise opportunities.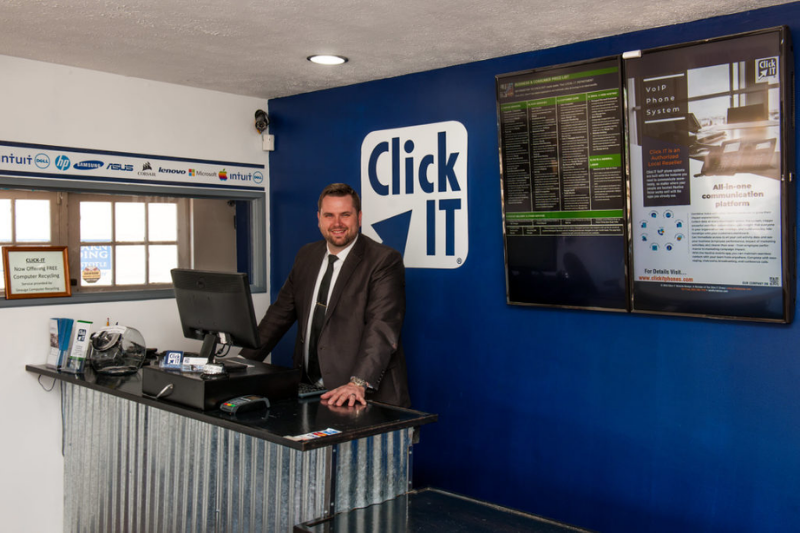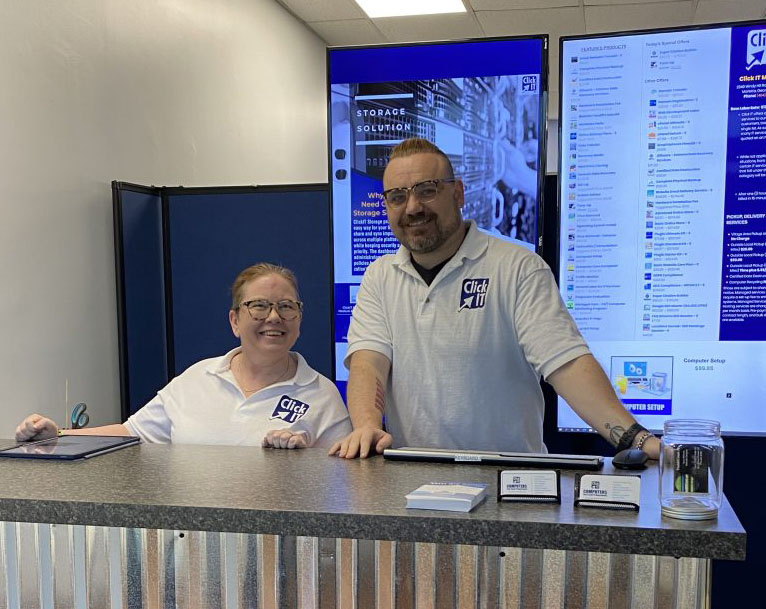 "Click IT's steps were very clear, understandable, and thorough. The most outstanding value we have seen with Click IT is their "coach" mentality and approach for franchisees.  They have been an invaluable resource for new ideas, creating job descriptions, marketing materials, or finding out what has worked in the past.  The Click IT franchise experience gives us a lot of autonomy to innovate and explore what works best for our market and business style - all under the reputable Click IT umbrella that is there to support you the entire way."
How Click IT Franchise Stands Out: More Guidance, Higher Margins, and Full-Format Franchise
When it comes to choosing a computer repair franchise, there are many options out there. But none of them offer the same level of guidance, higher profit margins, and full-format franchise as Click IT. Here's why:
More Guidance for Our Franchise Business Owners
We understand the importance of providing our franchisees with the support they need to grow their businesses sustainably. That's why we offer extensive training, including 20 hours of classroom training at our company store and 20 hours of on-the-job, task-by-task training. Our franchisees also learn how to develop a start-up plan to plot a course for success. And when they need help, they can always call our founder, Al Harlow, who has decades of experience building and leading teams in the technology and IT space.
Delivering Better Systems
At Click IT, we've developed systems and procedures since 2012 that streamline day-to-day operations, giving us a competitive edge. And we're happy to share these systems with our franchisees, such as our "pick it and click it" platform, which makes selecting products and services for customers a breeze.
Higher Margins
We offer best-in-class computer repair franchise solutions at volume-discounted prices, which translates into higher profit margins for our franchisees. Our company store has made better-than-average EBITA on growing sales from a continually expanding customer base. And with our streamlined systems, increasing MSP endpoints and seats for customers is easy.
A Full-Format Franchise
We believe that our franchisees should have full access to all proprietary brand materials, expertise, vendor relations, and business development strategies available to the franchisor. That's why we offer a full-format franchise, giving our franchisees the support they need to succeed.
Helping You Get a Loan
Funding is essential when purchasing a franchise, which is why we partner with funding experts who have been helping America's entrepreneurs for over 35 years. Our suite of funding options spans nearly every type of business situation, so we can help our franchisees get the funding they need to start their businesses.
Compare Us with Other Computer Repair Franchises
If you're interested in starting a computer repair franchise, you should compare us with other franchises in our category. We're confident that our unique approach to franchising sets us apart from the rest.
Request Franchise Information
We're excited to show you how to offer the best-in-class computer repair franchise to a receptive network of appreciative customers. Contact us today to learn more about becoming a Click IT franchisee.
We'll Show You How to Offer the Best-In-Class Computer Repair Franchise to a Receptive Network of Appreciative Customers
Watch this Video to Learn About What a Computer Repair Franchise Managed Service Provider (MSP) Does

Our proactive approach to computer IT management relieves customers of their information technology woes. No matter which systems and devices you, your family, and your staff use, Click IT provides the day-to-day support that prevents problems from cropping up and quickly resolves any issues that might emerge. Our proven methodologies ensure our clients experience less downtime and enjoy greater productivity. Best of all, as an MSP, we do all this for a flat monthly fee—so your bank balance benefits too.
IT Security

The complete Click IT Secure solution will get your business or home fully protected from ransomware, cyber-criminals, and crime-ware for a reasonable price.
Recently, a ransomware virus shut down thousands of businesses across 150 countries and infected hundreds of thousands of computer networks, and it will happen again according to the experts. In recognizing this challenge, Click IT developed a comprehensive solution to data vulnerability and is now offering it at an affordable and reasonable price to businesses and organizations nationwide.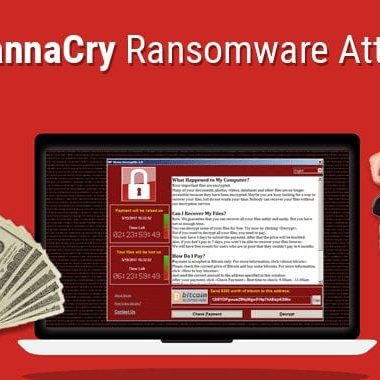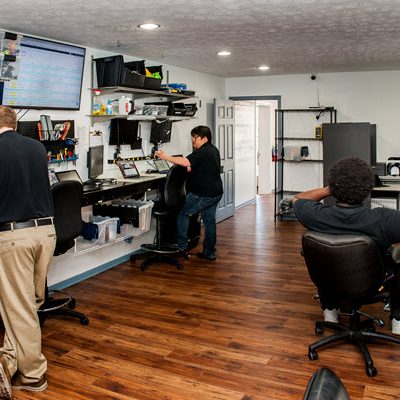 Computer Repair

Click IT offers a unique, hybrid delivery of IT services. We care for hundreds of Macs, PCs, and Networks. We service both consumers and businesses. Our aim is to set your worries at ease by being your reliable and affordable IT department.
We sell, support, and service every brand of computer or network appliance, and can even custom-build your system or network using quality parts that are made to last. We also make sure that each part we use for fixing is new and of the highest quality.
Hosting Services

Click IT has a full-service hosting facility, where we provide our clients with reliable and secure website hosting with affordable email and domain prices.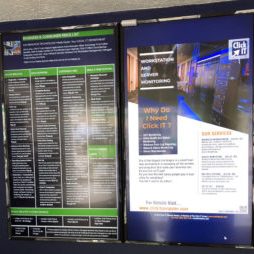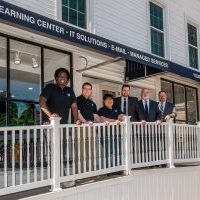 Website Designing & Development

The web is now where people go to find things and learn more before deciding to go a step further. People want to see first what you are before even considering going the next step. It is just the way this fast-paced world has developed, and the good news is that you can take full advantage of its power at a much lower cost than just a few years ago.
More specifically, because of plugin technologies and advanced platforms Click IT uses, your new website will be able to be just about anything you can imagine. And better yet, building it can be done at a low price compared to just a few years ago, where functional elements that made a website work had to be built using developers writing custom code.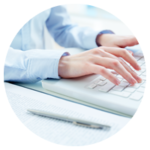 As an essential business, our stores have remained open daily during the pandemic, with normal business hours. Get Started Now to begin exploring the possibilities of owning your own thriving Click IT store in your community or subscribe to our newsletter to stay informed.
Features, Advantages & Benefits of the Click IT's Computer Repair Franchise Operation
A Proven Business Model
Click IT is a proven business model that will produce for you a solid recurring cash flow and an unsurpassed return on investment. We produce the highest margins of any other franchise in a related field. We have data that gives an unbiased evaluation between choices of franchises in this category.
One Doesn't Have to be a Geek
You don't have to be a geek to own a Click IT franchise. We've built "pick it and click it" websites that make it easy for our franchisees to service customers using our platform. Our Platform for all of Click IT's Products, Solutions, and Services. Click IT has over 20 websites focused on nitches, as described by our division websites.
Guidance with Funding the New Business
We explore with our franchise candidates what avenues for funding is available to them to finance the opening of their new business. To make this easier, Click IT has been approved as a franchise by the SBA.
Deciding on an ideal location is critical as well, so when you've narrowed down your area to consider opening a business, for our franchise candidates we conduct a demographic study for the area under consideration. In this study, we typically come up with recommended locations to consider.
A Clear and Concise Process
We have a clear and precise process for our franchise candidates to be brought through, so at all times they have a complete understanding of what they need to do in order to be invited to become a Click IT franchise owner.
Lots of Training and Support for the Franchise Owner
Franchise owners are initially given 40 hours of classroom and on-the-job training where they learn a methodology plotting a course to high and sustainable profits. Our support is ongoing and committed.
Three Ways to Get Started
Begin Your Business Ownership Journey Today!
Frequently Asked Questions
Still have more questions?
Three Ways to Get Started
Begin Your Business Ownership Journey Today!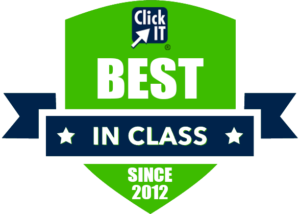 Already a Nerd In Your Own Computer Repair Franchise Business? If you are already a Geek who has clients and an on-going business, we can teach you how to propel it to new heights through using our techniques and business model which will create more recurring, steady and reliable revenue. Isn't it time you're able to take a vacation? We have a special program designed especially for you to enable you to do just that. So fill out this form so we can explore the possibilities together.
Earn Thousands of Satisfied Customers
*Click IT's Company Store's Net Profit Margin (EBITDA) is higher than any other IT franchise, as published in their Franchise Disclosure Documents.