By investing in the Click IT store franchise concept, our owners become a part of an emerging franchise group focused on becoming the preferred and most trusted "local IT department" for hundreds of communities surrounding Main Streets throughout North America.

Features, Advantages & Benefits of the Click IT Franchise Operation
A Proven Business Model
- Click IT is a proven business model that will produce a solid recurring cash flow and an unsurpassed return on investment. We produce the highest margins of any other franchise in a related field. Our company store has operated since 2012. With a growing recurring revenue stream from a continuously growing list of subscribers. Customers can now pick from 12 categories containing over 100 pre-packaged IT products, services, and solutions at Click IT, making Click IT unique as an MSP.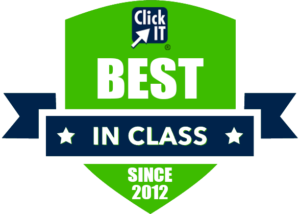 One Doesn't Have to be a Geek
- As a "Full-Format Franchise", we provide a total package of business systems, marketing, and ongoing support. While we do expect some basic computer skills, one doesn't have to be a geek to own a Click IT store. Our systems entail using "pick it and click it" web portals that make it easy for our franchisees to service customers using our proprietary platforms.
See our Platform for all of Click IT's Products, Solutions, and Services. Click IT has over 20 websites focused on nitches, as described by our division websites. We market and sell them to communities of residents and businesses by using our online company store. which also serves as our point-of-sales cash register (POS) in our retail store. (Once sold to their local client, these services, solutions, and products can all be purchased by the franchise owner directly from corporate, btw, at sizable discounts.)
Guidance with Funding the New Business
- See what avenues for funding candidates have available to them to finance the opening of their new business here: https://www.clickitfranchise.com/funding-options. To make the process easier and quicker, Click IT has been pre-qualified by the U.S. Small Business Administration as a "lendable" franchise.
- Deciding on an ideal location we believe is critical, so when a candidate has narrowed down an area to consider opening a business in, for our franchise candidates we initially conduct a basic demographic study for the area under consideration. In this initial study, we see how populated the area is, indicating how busy a Click IT store in this area would be. Once the candidate is awarded a territory, we assign the task of finding recommended locations to consider to our highly experienced real estate department. (The process begins by registering at our members portal before any of our territory selection and evaluation work begins.)
Full Training, Complete Systems, and Support for the Franchise Owner -
Click IT is what's referred to as a "Full-Format" franchise, meaning we provide our franchise owners with all the training, systems, and support they need to run a Click IT Store. Franchise owners are initially given 3 days of classroom instruction at our headquarters and then on-the-job training where they learn a methodology plotting a course to high and sustainable profits. Our support is ongoing and committed, including full web-presence support. To learn more see https://www.clickitfranchise.com/what-a-click-it-franchise-owner-gets.
A Clear and Concise Process -
We have a clear and precise process for our franchise candidates to be brought through, so at all times they have a complete understanding of what they need to do in order to be invited to become a Click IT franchise owner. See https://members.clickitfranchise.com/steps-to-becoming-a-click-it-franchise-owner/. One major mistake made by new franchisors will be avoided by using this proprietary vetting process to select the best-in-class franchise owners.
A Competitive Advantage –
The Click IT franchise system was given a grade of "A" by Franchise Grade and is ranked by Top IT Franchises as the number one IT franchise available today. See franchise-grade.
Marketing and Sales –
Franchise owners work directly with our Marketing Department to customize and plan the launching of marketing and sales campaigns. Business owners also get an array of software tools to use to help find and attract customers easily. One of the most effective tools we developed internally, for easily prospecting potential clients, is called WP Sales Prospector: See https://clickitprospector.com and watch the video for a full demonstration of how it works.
Extensive Assistance and Tools for Franchisees to use to Easily Find Customers:
Prospecting for new business is one of, if not THE most important tasks a small business needs help with so our Marketing Department goes to great lengths in working with our franchise owners with a myriad of approaches to their market areas.
An Experienced Founder –
Our founder, AL Harlow, is a seasoned entrepreneur with a track record of building businesses with recurring revenue models from the ground up. The creator of now hundreds of innovative products, solutions, and services for both the consumer and industrial markets, his winning formula includes providing them through unique delivery systems, as is the case with delivering Click IT's products, services, and solutions. AL's work is supported by a competent and credible team, including Attorney Robert Rosenfeld, who has over 40 years of legal experience. Bob advises and watches over the legal and compliance matters a franchisor is tasked with on a constant and continuous basis, as it grows.
All-Inclusive IT Services
Click IT franchise owners are well-equipped with systems and processes, and well-trained. They are able to service their customers' needs efficiently; making transitioning into new computers, for instance, easier using our backend systems; and, thereby improving the overall experience when purchasing new or using technology in general. Big-box computer stores do not sell IT services. They will not transfer data from an old computer to a new one, for instance, as efficiently and at the speed that a Click IT store can. Additionally, Click IT is the only retail business that will sell you an email subscription that is secure and then managed by a local staff.
Concierge Services
Click IT stores sells IT solutions similar to concierge services. We deliver services and support to our customers at a higher level of care. Plus, being in a smaller setting (referring to our store size and layout) conveys a feeling of trust and intimacy. At a Click IT store, you get to meet and converse with the owner, who will many times be the one doing the work for you. Click IT's tested and proven systems, coupled with our years of experience and expertise (since 2012), aligned with our selection of our "best-in-class" supportive suppliers, as well as our ongoing expansion and team's commitment, have propelled the Click IT franchise network far ahead of any competition.
Our Story
Click IT in Chagrin Falls, Ohio, was established in 2012 by Al and Danette Harlow, who made Chagrin Falls their home in 1990, where they raised 2 boys, Albe and Robbie. The business's focus is on helping both residents and businesses in the surrounding area with everything relating to their electronic information technology, or what is commonly now known as IT.
From computers to cell phones to creating and maintaining a web presence, thousands now have used our services and depend on our monitoring and management by our very talented team of technicians.
See the many products and services our company store offer at https://chagrinfalls.clickitstores.com, in our unique, pre-packaged format. Call us in Chagrin Falls and speak with a technician at
(440) 247-4998, who can help you with any particular IT issue and explain our best-in-class solutions to make your experiences using technology much more productive and easier.
Note: While we do our best to train our franchisees and provide them with the best-in-class backend of services, success is by no means up to us, the franchisor, but the individuals who own and operate their stores independently of our business. We reserve the right to change and update our training methods, services, and support for the franchise network. All franchise owners sign a Franchise Agreement outlining their obligation of dependency on their capabilities and not on Click IT Franchise for anything other than what's outlined in this agreement.