List of US States Where Protected Territories are Available
To identify the best places to open a Click IT store in your city, Click IT's staff conducts a search and then negotiates on our franchise owner's behalf at no cost to our franchise owner!
During your area's site selection process, we pay close attention to the demographics of the places being evaluated.
In our franchise model, we believe that finding an ideal place to operate a successful Click IT store is most important.
States Targeted for Opening Click IT Stores
Alabama
Alaska
Arizona
Arkansas
California - Pending
Colorado
Connecticut
Delaware
Florida
Georgia
Hawaii
Idaho
Illinois
Indiana
Iowa
Kansas
Kentucky
Louisiana
Maine
Maryland - Applying soon
Massachusetts
Michigan
Minnesota - Applying soon
Mississippi
Missouri
Montana
Nebraska
Nevada
New Hampshire
New Jersey
New Mexico
New York - Pending
North Carolina
North Dakota - Applying soon
Ohio
Oklahoma
Oregon
Pennsylvania
Rhode Island - Applying soon
South Carolina
South Dakota
Tennessee
Texas
Utah
Vermont
Virginia - Pending
Washington - Applying soon
West Virginia
Wisconsin - Applying soon
Wyoming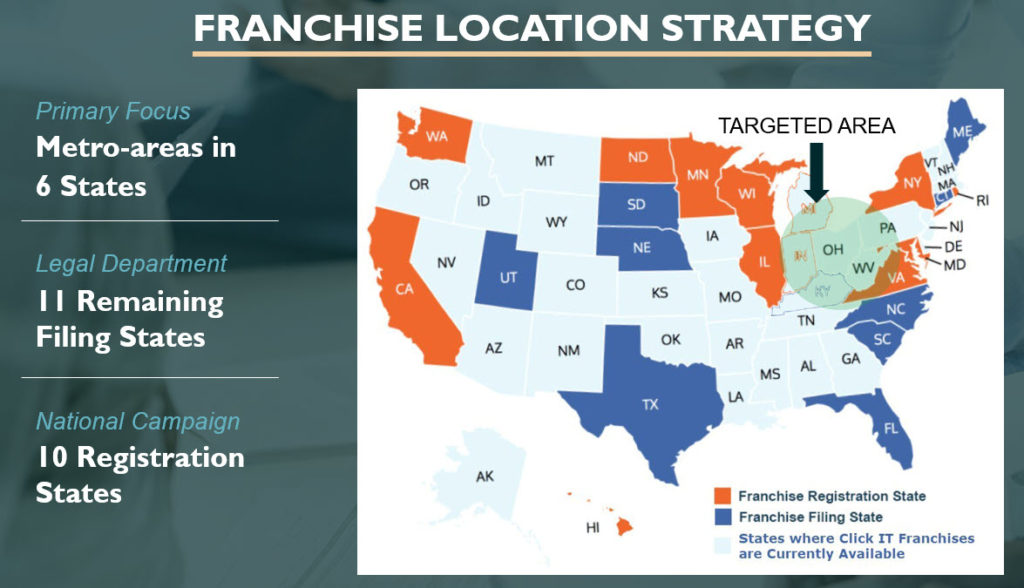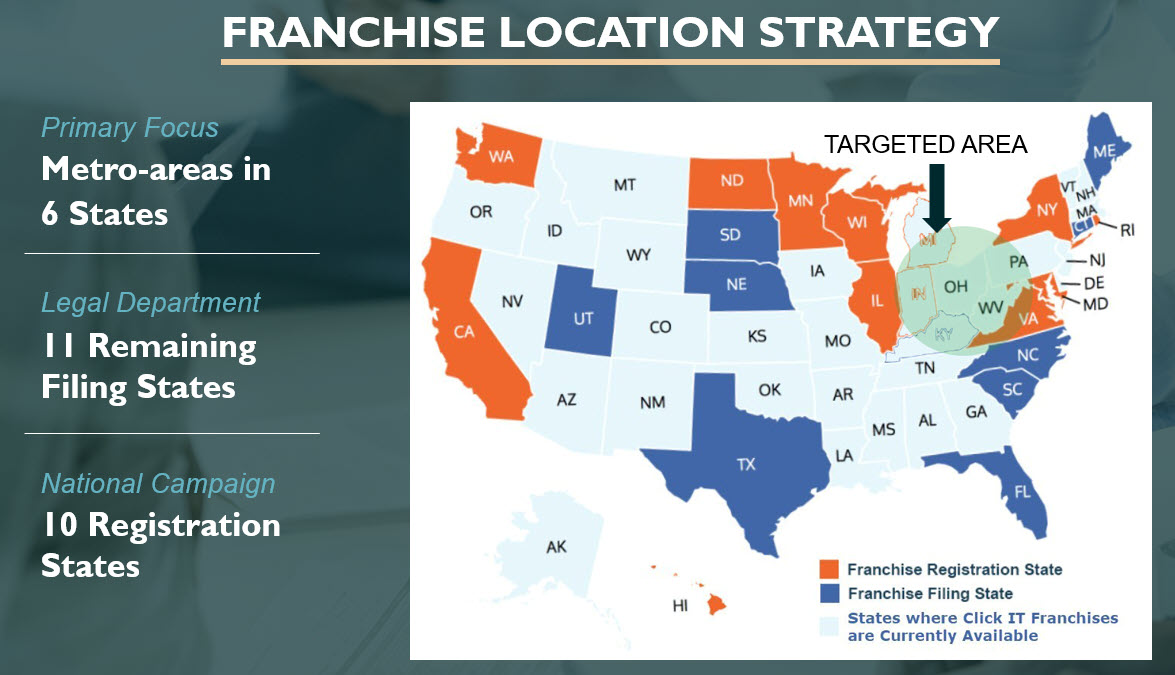 Protected Territories
Regarding awarded protected territories, Click IT provides our awarded franchisees the following:
We work directly with the franchisee and our commercial leasing partner to find all the available places for lease in the selected area in every asset class of Commercial Real Estate.
We give our franchisees access to Lease Comps, which are comprehensive reports that will help us understand if a leased place is in line with market rates in that city.
We have access to in-depth Market and Sub-Market Analytics for every location we focus our attention on. This helps us understand the dollar-per-foot costs in the city and state. High vacancies in sub-markets give us leverage in our dollar-per-foot negotiations.
We identify the true owners' contact information for the places we select based on favorable demographic data.  This gives us the ability to reach out directly to the owners of any available commercial property for lease we select. Often we find owners without broker representation which can save money on the lease transaction.
Demographics:  The data about the area's population and the makeup of that market area is the information we find the most key since it tells us what places have the best distribution in population for both businesses and residents and how many targeted eyeballs a location receives daily or monthly. So, we make available in our studies additional information such as traffic counts, household incomes, home values, and much more; customizable geographically.  This data is often displayed in a text file (spreadsheet) or by creating a "heat-map" with colors indicating population density, for instance.
Drive-time indicator:  We also are able to gather information on how many office tenants are within a 15-minute drive, for instance, of your potential store location.  The tools we use for gathering and examining all this data can also be used by our franchise owners as an indication of who they should start reaching out to directly, as the new Click IT store prepares to open in that area.
What we look for in awarding a protected territory is an area that has a minimum of 3,000 businesses and 60,000 residences inside a 5-mile radius. See the side panel for more information.
What We Look For:
Space Requirements: 750 to 1,600 Square Feet
Cost per Square Foot: $8 to $35 triple net (depending on quality and traffic)
Landlord: A friendly owner who is willing to work with you and will give your free months of rent and a build-out allowance. Remember the 3 "Ns": Negotiate, negotiate, and negotiate. Finding a space that has already been built out, an old Subway store with a counter, for instance, will save money.
Minimum Demographics
Below are the minimum demographic data we look for within a 5-mile radius, when selecting a location:
60,000 residents or greater
3,000 businesses or greater
$65,000 Medium household income
$175,000 average housing unit value
5,000 automobile passages per day
NOTE: In May 2021, in order to provide the best possible expertise in commercial real estate to our new franchise owners, Click IT entered into a partnership with FGP Commercial Leasing.
Territory Criteria
The type of businesses inside this radius doesn't really matter. Most Click IT business customers are under 100 employees, so the emphasis is on servicing small businesses. Some Click IT stores, however, will want to focus on servicing larger customers, and that's okay too. Servicing local residences helps build a store's reputation, and recognition, and will be a source for referrals to a Click IT Store. Fixing residents' computers and taking care of their maintenance, as well as providing the many other IT products, services, and solutions to them, including doing house calls, will help spread the word rapidly. The most important outcome in positioning a store in a visible location with strong demographics is so our franchise owners to be very successful.
Outside the Cleveland/Akron metropolitan area, we are also focused on locating franchise stores in the following states:
Ohio
Kentucky
Michigan
Indiana
Pennsylvania
West Virginia
The States shaded in light blue on the map above are states where Click IT Franchises are currently available. If you want to purchase a franchise in a State shaded in orange or dark blue, then we will consider registering in that State. Master Franchise Agreements and Area Development Agreements are also available at negotiable discounts. For more information see https://www.franchiselawsolutions.com/franchising/state-specific-laws.html.
Listen to this Podcast to Learn Why a 5-Mile Radius Territory is Plenty