The Click IT Franchise Opportunity
Have you filled out our basic application form yet? If not, please do it now so you can start receiving more information about our franchise on a regular basis.
Owning a Click IT Franchise
By investing in the Click IT store franchise concept, you will become a part of an emerging franchise group focused on becoming the preferred and trusted "local IT department" for hundreds of Main Street communities throughout the USA.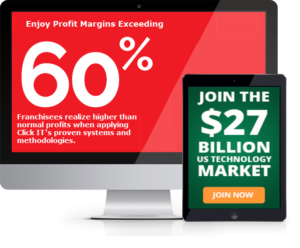 A Proven Business Model in a Growing Market -Click IT produces the highest margins of any other franchise in the tech field (www.topitfranchises.com) and sustained growth is a given. For instance, in 2019, sales at the company store increased by another +20% after eight years in operation! We are focused on serving small businesses whose IT needs are grossly underserved by Managed Service Providers. Meanwhile, 20% of the population in the US will be over 65 by 2030. As such, we are also focused on serving an aging population of consumers who will increasingly require help with their tech and data security.
One Doesn't Have to Be a Geek to Own a Click IT Store - We've built "pick it and click it" websites that make it easy for our franchisees to serve their customers. The central job of a franchise owner is to establish a market presence in their chosen territory. Franchise owners lead a store team, help that team provide trusty local IT support and sell Click IT's a platform of products, solutions, and services to their community.
Guidance, Training, and Support - We are committed to the success of our franchisees. From helping our franchisees select their territory to managing their web presence using proven search engine optimization techniques to offering an array of software tools that reduce the burden of seeking out customers, we are prepared to help franchisees succeed. Through 40 hours of classroom and on-the-job training, we walk franchisees through their first year, task by task, with our Business Implementation Plan, plotting a course to sustained growth. Click IT has even been pre-qualified by the Franchise Registry. This expedites the SBA loaning process (see Funding Options).
Competitive and Strategic Advantages - Our founder, AL Harlow, is a seasoned entrepreneur with a track record of building recurring-revenue businesses from the ground up. He is the creator of hundreds of innovative products, solutions, and services for both consumer and industrial markets over decades. Click IT has emerged from this experience, a concierge-like "local IT department" with over 20 verticals and a proven, low-investment-high-reward model.
Who's a Good Fit?
Goal-Oriented Achiever
Passion for helping others
Seeking an active role in the business
Experienced leader
Ability to manage clients, caregivers, and business development
See https://www.clickitfranchise.com/ideal-candidate for more personality traits we look for.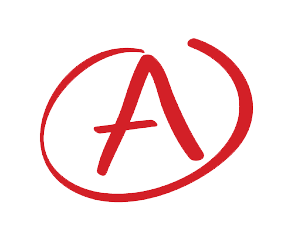 Here's What Most Candidates Want to Hear About First:
The business is a low-cost and high-yield opportunity.

Investment is between $90k and $170k.
We like candidates to have:

$50k in cash,
a good credit rating (above 600)
and $150k minimum in NET WORTH.
There's no reason to fund completely with cash-on-hand. Our brokers can assist the candidate with this, or alternatively, we can help with finding funding as well.
Beneath it all, Click IT is really a simple business model with a focus on servicing a community with real value providing demanded services, solutions, and products that then build recurring revenue for their business, where the sky's the limit.
The Tech Industry
Click IT is focused on serving small businesses that are grossly underserved by MSPs (Managed Service Providers). We are also focused on serving a growing population of older people who typically need help with their tech, management, and protection of their data. (Twenty percent (20%) of the population in the US will be over 65 by 2030.)